From September 28 to October 1, 2014, the team of the INRS Research Chair in Coastal and River Engineering will participate in various activities at the Transportation Association of Canada (TAC) annual conference, which will be held at Montréal's Palais des congrès. This year's theme is "Transportation: Past – Present – Future."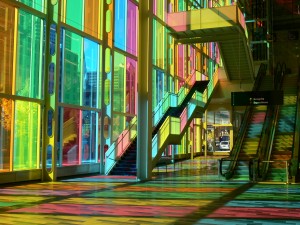 On October 1, from 8 a.m. to noon, Chairholder and Professor Jannette Frandsen will participate in a panel entitled "Strategic plan of coastal management in Quebec" (Jannette Frandsen, Research Chair in Coastal and Fluvial Engineering, INRS-ETE).
During the panel, Professor Frandsen will present her research project on modeling wave impacts on a vertical wall, a project funded by Quebec's ministry of Transport. The main objectives of the project are to improve our understanding of the design of coastal protection structures and to ensure the long term stability of walls protecting coastal roads in the context of climate change.
The Chair's team will be also present at the poster session and at the Exhibition Hall where it will host the Research and Innovation section with three other Quebec universities.
Come meet them:
September 28, 5 p.m. to 8 p.m.
September 29, 11 a.m. to 3:45 p.m.
September 30, 8:45 a.m. to 3:45 p.m.
The event will bring together almost 1,200 delegates from all over the world. Moreover, the conference is free for students (meals not included)!
For more information on the TAC Annual Conference>>>